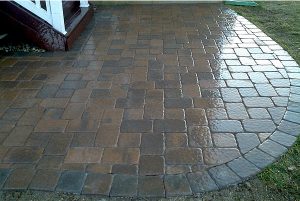 When you're designing your dream space, it will likely consist of both hardscape and softscape. Any man-made areas in your property's design are constructed by hardscaping, such as pavement, patios, decks, or walls. Some landscapers only perform softscaping services like sod installation or lawn care, but Royal Landscapes performs both softscaping and hardscaping in South Jersey.
Hardscaping isn't limited to concrete. Anything made of gravel, rocks, brick, wood, or other solid materials is also considered hardscape. Some obvious areas that might need hardscaping work include paths, streets, walkways, sidewalks, and other areas that require concrete or masonry. Royal Landscapes can also design patios and construct retaining walls for you to add to your outside décor.
What do you gain from doing hardscaping? South Jersey families and business owners reap the aesthetic and structural benefits of hardscape. Specifically, it helps preserve a landscape's design. Plus, once completed, it doesn't require a lot of maintenance like a lawn. Hardscape structures and additions also both save you money and protect the environment by limiting the amount of water and energy required to keep your yard or property looking its best.
Royal Landscapes is an expert at hardscaping in South Jersey. If you live or do business in the area, we can complete any project requiring hardscaping. South Jersey's environmental demands and climate are familiar to us, and we will work with you to assess your needs, to meet your budget, and to make your landscaping dreams become a reality.