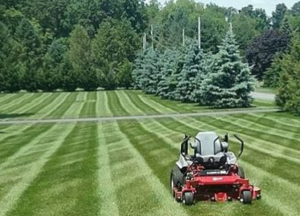 Unlike other landscaping companies in South Jersey, Royal Landscapes operates year-round, beginning the maintenance phase between late March and early April, depending upon the weather. From that point forward, we continue caring for the property – even into the winter months! Proper lawn care will turn your tired lawn into a fresh, vigorous yard or your business into an attention-grabbing commercial property as it glows with the rich, green color of healthy grass.
Our lawn care at South Jersey includes a variety of services and treatments that keep your grass full of life over the long term. You can choose either weekly or bi-weekly cuts for your yard or commercial property. While working, we will notify you if we spot any problems on your property. With years of experience as one of the top landscaping companies in South Jersey, let us anticipate and prevent any potential problems, so you don't have to spend hours monitoring your sprinklers or trekking back and forth from your local nursery.
In addition to lawn cutting, we offer an array of services related to the maintenance phase of landscaping. South Jersey residents all need thatching, aeration, seeding, and fertilizing services. These services can be provided separately or as part of a total lawn care service package. Don't worry if you're not sure what's needed for your commercial property or yard. We will work with you to assess your needs and meet your budget.
Experienced landscaping companies in South Jersey like Royal Landscape can help transform your lawn or commercial property into an eye-catching sight through regular care. Your lawn maintenance is in good hands with Royal Landscape.
P.S. – Are you also interested in recurring fertilizer treatment services? If so, visit www.greensideupsod.com.