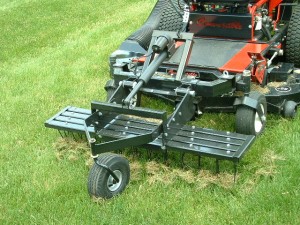 Once your lawn has been planted or installed, regular lawn care is necessary to keep it the healthy, deep-green color that signals vitality. If improperly dethatched or aerated, your lawn can turn brown and become damaged. Don't let your new or existing lawn get ruined. Royal Landscapes will work with you to perform these maintenance jobs of aeration and thatching. South Jersey properties have unique requirements for dethatching and aeration, and as a successful landscaping company in South Jersey we have experience with both procedures in this part of the state.
Thatching: Lawn dethatching in South Jersey should be completed by a landscaping company like us if you want to properly remove the thatch on your lawn. Thatch is composed of debris, dead grass, clippings, and other types of buildup that can accumulate over time. Cleaning it creates room for new grass. Conversely, allow these debris to decompose on your lawn will destroy it. Also, if mulch is left on grass or if it isn't aerated, your lawn's problems can compound.
Aeration: Aeration for South Jersey properties prevents grass from becoming thin. It accomplishes this by preventing the soil from becoming too compact and by allowing a lawn to absorb more water, which stops excess runoff from forming. During the process of doing core aeration on South Jersey lawns, we mechanically drill small holes in your home's or commercial property's land. Afterwards, your lawn will breathe better, absorb nutrients better, and grow faster.
If you opt for aeration for a South Jersey property, you should, at a minimum, water your lawn for 15- to-20 minutes per day for the first few weeks after the procedure. Consistent watering will significantly help any planted seeds germinate.
Most untended lawns will benefit from dethatching, aeration, and proper lawn care. But, these procedures can be frustrating to attempt on your own. If you don't have time or if you're tired of trial and error, Royal Landscapes is here to make your life easier. Just sit back, relax, and watch your lawn become the envy of your neighborhood.