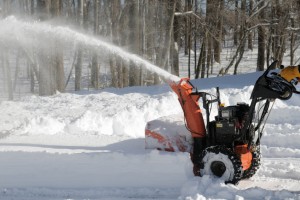 Do you dread shoveling tons of snow from your driveway or your business's parking lot after a brutal snowstorm? In addition to being a reputable landscaping company in South Jersey, Royal Landscapes provides snow removal services in South Jersey. Don't let snow cause you to lose business or keep you stranded at your house. We will clear your driveway or commercial parking lot, so you can focus on making money and the important things in your life.
Clearing snow quickly will make the difference between a stress-free day and a stuck-in-your-house day. Our winter services include removing snow after a heavy snowfall, plowing parking lots, shoveling driveways, spreading sand or salt, and more. And we get the job done when you need it.
Prompt service is one of the most important elements of snow removal and landscaping in South Jersey. We'll work around the clock, and as soon as the snow stops, we'll begin clearing your driveway or parking lot. The snow will be removed before it hardens and turns into ice. After all, snow removal isn't necessary after the snow is already melting! We like to emphasize to our customers that we ONLY use shovels and snow blowers on residential properties.
It's important to hire an experienced landscaping company in South Jersey for cleaning up snow because you'll find yourself out of luck if you work with newly-established companies that lack the snow removal system, equipment, and trained employees that we have. Also, you don't have to worry about paying for unwanted services when partnering with us. Unlike other landscaping companies in South Jersey, we don't force customer to purchase one, comprehensive snow removal package if they don't need all the services. You should be able to work with a contractor and select what you need without the company slipping in extra costs.
If you need snow removal services this winter, don't delay – the next storm could be right around the corner. Call Royal Landscapes, today, and we will assess your snow removal needs, develop a contract, and prepare your house or business in case the next snowstorm is the "Big One".