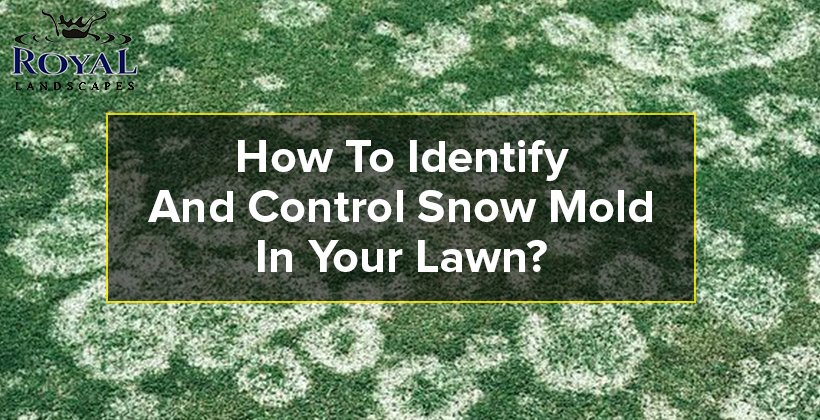 How To Identify And Control Snow Mold In Your Lawn?
August 26, 2019
A healthy and lush lawn is what every homeowner desires. Isn't it? However, keeping it well-maintained all year round isn't that easy. It requires time, care and maintenance. It is one of the chief reasons why most lawn owners prefer to hire professional lawn care service providers to take care and help in maintaining their lawn.
Why do you need professional lawn care services in South Jersey?
All lawns are susceptible to insects and pests that contribute to lawn issues such as unwanted weed growth, moss, etc. If not given due attention, these issues can wreak havoc on your yard. Due to poor maintenance and lack of care, a lot of lawn issues can crop up. This is why you should consider hiring a professional team to take care of your lawn.
Here are 4 common lawn problems:
Problem 1: Thin and patchy grass
If you start seeing patches or dry spots in your lawn, you need to take action quickly. It is imperative to find out the root cause before it affects your whole lawn. The thin and patchy grass is usually a sign of poor soil quality. It means that the soil is not able to maintain a proper pH level. It may be lacking some key minerals or an unbalanced composition of Nitrogen, Phosphorous and Potassium might be causing it.
Solution: To figure out what's wrong with the soil, it needs to be tested. We at Royal Landscapes are expert in Lawn maintenance services and ensure thorough soil testing to detect the pH levels or imbalance of minerals.
To fix the issue we reseed the patchy areas: We use a ground rake to scratch the bare patch and then sprinkle the seeds. We give proper attention to the area and water it gently for a few weeks. Based on the soil test, we replenish it with the right fertilizers and restore the balance of minerals.
Problem 2: Unwanted weed growth
Most homeowners in South Jersey complain about unwanted weed growth in their lawns. Anything from daisies, buttercups, yarrow, dandelion to chickweed, yarrow, and wild violets, etc. trouble most of our clients in the South Jersey area.
The unexpected growth of weed in your lawn is a sign that your grass upkeep is lacking and if left untreated, these weeds will spread across your whole lawn and deprive the soil of sun, water, and minerals. Gradually the grass will lose its shine and wither away.
Solution: To control the growth of weed in your lawn, herbicides and pesticides can be sprayed. However, you should note that these chemicals like herbicides, pesticides, and fungicides can end up polluting the groundwater in the long run. We recommend using a gentle herbicide that doesn't contaminate water and yet effective for the weeds.
What we do: For proper lawn care, we get rid of the weed by manually removing them. We dig out the roots and let them dry in the sun. Once the root is dry we add it to a compost or mulch pile. It is a long process and can take a lot of time but the results are effective.
Problem 3: Lawn moss
Moss can quickly overtake compact, wet, under fertilized and in-shade lawns. It's a serious problem in spring and autumn. It's an indicator of poor conditions and needs immediate attention. Here is how to keep a lawn healthy and moss-free.
Solution:
• Raise the pH level of soil by adding lime. This will make your soil more favorable for the growth of grass. Make sure that you use a lawn spreader to add lime and follow proper instructions.
• The dead moss needs to be raked up once it turns brown or yellow.
• Hire professional help to take care of these things for you.
How can we help?
• We can help improve the drainage system in your lawn to avoid water accumulation.
• We can regularly aerate the soil to improve air circulation.
• We perform soil testing on annual basis to find out what nutrients are missing and add the right fertilizers to improve the grass growth rate.
Problem 4: Chinch Bugs
Chinch bugs turn grass color to brown and damages the grass. If you notice Chinch Bug damage, it probably means that your grass has become weak and more susceptible to stress. The bug issue is quite common in the hot days in New Jersey.
Solution: If you start noticing the signs, start taking preventive measures immediately. You can spray insecticide such as Insect Dust (Diatomaceous Earth) in the affected areas. This usually slows down the infestation. However, proper maintenance and round the clock care is required to get rid of the bugs completely.
Conclusion
Many lawn related issues are difficult to identify and people usually don't have extra time to fix the lawn. This is why you should hire lawn care specialists to take the burden off you. Let us help you, contact us at 856-905-1669 for a luscious, thriving and green lawn!